Dancing on my tail…
The expression "dancing on their tail" was for me always appealing as representing something equivalent to a bold or beautiful achievement bordering on impossible. I do not even know where I picked up this expression from. I checked on the Internet, and did not find in any language I know. So, may be I made it up. Or may be it is a variation of an old polish rhyme by Brzechwa, a beloved poet of all polish children (and many adults)- (if any of the readers has a clue who could be the author, please let me know ASAP). So, the verse goes like this: "Pies do miasta się wybiera żeby zdążyć  do fryzjera i przedziwną chęcią płonie, by mieć loczki na ogonie".  This, in a version adapted to the circumstance at hand would be:
"Szczur do miasta pędem leci
Żeby zdążyć na balecik
Bo przedziwną chęcią płonie
by zatańczyć na ogonie"
or in my translation:
My Uncle Rat went to town
to ballet-school on his own
Had that very curious will
on his tail to dance as eel.
Uncle Rat became our uncle during our early cross-America drive from NC to Arizona. For the trip our daughter, eight years old or so, was given a farewell present from friends of ours in the form of a cassette (an ancient plastic form of MP3) with American Folk Songs. Spending about 12 hours per day in the car we became abundantly familiar with American Folk Songs, probably much more than our offspring. Uncle Rat was a Senior Chief Executive Advisor to Miss Mouse, who in one of the songs was considering a marriage proposal tended to her by Mr. Frogg. So, my cut-out reports on less known side interests of Uncle Rat. I think, it is a perfectly justified motivation for an advanced work of art.
Artistically, the work has different roots. They come from Umbria, Italy. We love Italy, its monuments everywhere, its people and their sense of beauty, sophistication and finesse. At some period we would spend vacations at a country house of our dearest Polish-Italian friends in Umbria. Every single, little or bigger town in Umbria is a gem of history (Etruscans dwell (ed) in there) and art, and among them one was particular, Orvieto. Orvieto is on the other side of Tiber river, sitting on a high cliff. And the most eminent building of the town is its Duomo (meaning cathedral).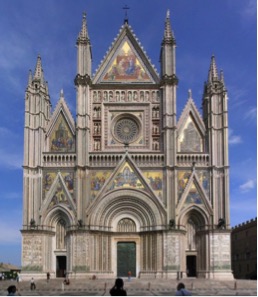 Orvieto, Duomo
But it is not Duomo that is the subject here. Because it attracts so many people, it is surrounded by hundreds of little shops, which mostly sell a locally produced ceramics of incomparable beauty. Or there were, thirty years ago. In that period, at each trip to those places, Orvieto in first place, we would buy ceramics, plates, platters, cups…; they were extraordinary. They were also affordable for our modest pockets (in 1980ies). One of them (the one to the left, below) with a cute shape inspired my current cut – out. The second, a bit different in style, comes from Faenza, near Bologna,  but also has a central character, may be a bit more "stylish".
Clearly, all these ceramics are not antiques, they are copies, or at least you can say, they continue a tradition of the style of ages ago. I have no problem with this. Unfortunately, almost all this traditional production disappeared, replaced by very colorful "universal art".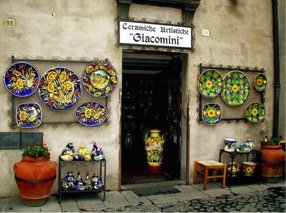 My piece, you may say, also is a fake, or at least not an original. I tried to mimic a relative emptiness of the space of that genre of ceramics. You will also recognize the two birds standing on decorative vases of sort, below the main character, and the lilies below them, and the base on which Uncle Rat stands. But I am saved by my rougher medium, and also by the artistic permissivity of our times. Any citation, any copy, any reference, work. These days, practically, nothing is original any more. So, the only thing left to you, poor artist, is your style….