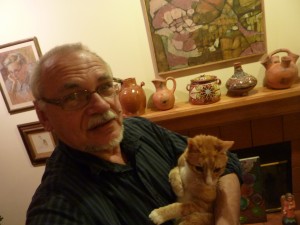 Bio

TH, native of and schooled in Poland, is a self-taught artist who began his artistic activity late in life, at the age of 64. He is an active university professor with a 45-year research career at a major US University (Duke) in the area of geomechanics. He has been a visiting professor at universities in France, Italy, Switzerland, Belgium, Spain, Poland and the US, often engaging in long-term joint research. Those prolonged stays allowed him to visit major European art museums and monuments—what he considers to be the best way to study art outside of art schools.
He grew up at a home filled with paintings of his uncle (A. Suchanek), who was a painter of landscapes, flowers and sea. All his live in Poland he was influenced by the art of his much older cousin, painter, illustrator and scenographer, Adam Kilian. Later, living in Italy for nearly 7 years offered him plenty of opportunity to be immersed in the country's enormous artistic patrimony. But he attributes his interest in modern and non-representative art to meeting his wife, who herself became later an abstract painter. They share a passion for art museums and for their modest collection of art (especially folk and outsiders art).
He lives in Chapel Hill, NC with his wife who teaches Polish at Duke and works as a clinical data manager, their cat Myszka and dog Rufus. Their daughter Julia is a lawyer in New York.
Tomasz Hueckel is a member of Swiss Association of Paper Cutout-makers (Association Suisse des Amis du Découpage sur Papier or Schwietzerischer Verein Freunde des Scherenschnitts) and Guild of American Papercutters https://gap.wildapricot.org/.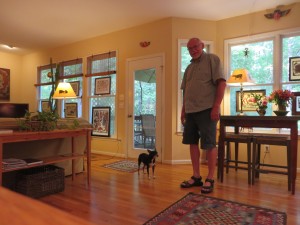 Artist statement:
I was always fascinated by the paintings of Hieronymus Bosch, Pieter Bruegel the Elder or others, filled with strange animals. I also enjoy the works of Henri Rousseau, Marc Chagall, Franz Marc, Paul Klee, Joan Miro', (not to mention Picasso) whose love of creatures—real or imaginary—I share.
Stone-carved ornament animals and gargoyles of Romanesque and Gothic churches are another source of delight for me, as they must have been for their creators.
So, whenever I would draw doodles during boring faculty meetings or preparing class notes, they were of creatures, more often imaginary than real. In fact, it was my students who encouraged me to use my animal drawings in the classroom.
Why animals? I think that the forms of the real animals, fish, birds (etc.) are so fascinating, beautiful and diversified, and often unexpected when you look at them closely—especially the things that nature invented to intimidate and scare other animals. The animal forms inspire creativity, especially when you abandon the need for the actual representation and direct functionality of naturally evolved features. This gives you a sense of freedom from convention, from reality and triviality. The elements of paradox, absurd and irony, which I so admire in Bosch, I use to express a distance from the harshness of life, from taking the chance of existence too explicitly or too seriously. That should make our lives a bit easier.
Most of my works are cut-outs from a thin aluminum sheet. Before I start, I first think for some time about what I want to present or what attracts me at the moment. Then I draw those things on a piece of paper, to manage composition and proportions. Then I re-draw them on my piece of aluminum using wax-pencils, which adhere well to aluminum. Then I cut. My main cutting tools are nail scissors. They are sufficiently strong for the sheet thickness I use. To start a cut from the middle of the metal I first make holes in the metal with a flathead screwdriver or a box cutter using a hammer. Then I can insert my scissors and cut, and cut, and cut. To add color to my cut-outs I spray them with acrylic sprays for metal. I occasionally try the general distribution of hues on a paper copy of my original drawing. My cut-outs are best seen against the light, so I often hang them on windows, framed with a double glass and a veil paper background. Then they play mainly through shade and light contrast. A light on the front adds a touch of color.
My art is loved by many. My most ardent fan is pictured below during a recent outdoor exhibition (click the image to enlarge).